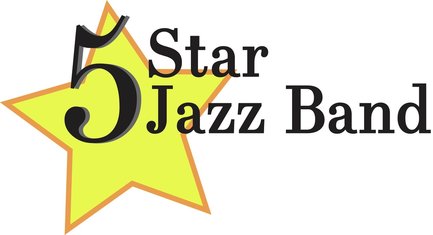 5 Star Jazz Band is an all-volunteer educational nonprofit 501(c)3 dedicated to keeping alive Kansas City's music legacy in Big Band, Swing and Jazz among young musicians through live performance and community service. Membership in 5 Star Jazz Band is a commitment for serious student musicians eager to advance their musicianship and to perform at some of the most exciting venues in the Midwest. It is an opportunity to make music more than just a hobby. You will grow as a musician, a Big Band team member, and a leader.
5 Star is led by Bob Drummond, an award-winning band director with 45 years'

experience as music educator. Members receive advanced performance-based training (instrumental and vocal) in a 30-piece Big Band and an 8-piece combo.





Current members earn highest ratings at district and state competitions, earning admission into prestigious jazz ensembles. Many gain admission and scholarships to music programs at the nation's leading universities and music conservatories. Numerous alumni now perform and record professionally around the country.





5 Star has logged hundreds of performances and recorded five CDs. Some of our more notable gigs have been headline performances for the Missouri Band Masters Association, Kansas City Harvest Ball at Bartle Hall, Helzberg Hall at the Kauffman Center for the Performing Arts, Missouri Governor Jay Nixon at the State Capitol, ArtsKC Live! Main Stage in Kansas City, Dick Clark's Legends Theater and the Branson Bell Showboat in Branson, Missouri, as well as for community, civic and charitable organizations, corporate functions and private parties.




Founded by three high school jazz band students from North Kansas City High School, 5 Star's Mission is organized around three guiding principles:





Music is a performing art. Solo, improvisation and sight-reading skills are developed and honed through live performance at paid gigs. We average 30-40 gigs annually throughout the bi-state region, with two weekly rehearsals year round.

Learn the business of music.

We empower our student members with entrepreneurial and management skills that give them to tools to succeed as a professional musician. Members manage day-to-day operations with the band's director; elected student leaders serve on the Board of Directors. No cost admission policy.

A true community asset accessible to every dedicated student musician age12-21, regardless of race or socio-economic status.

Grants/Supporters

• ArtsKC Regional Council

•

Band of Angels

•

Musicians's Friend

•

Fender Music Foundation

• Harrah's North Kansas City

• Francis Family Foundation

• First Christian Church of North Kansas City
• Northtowne Automotive

Awards

• 5 Star Resolution presented at the Missouri State Capital in Jefferson City, MO

• Reaching for Excellence, Fox 4 News

Press

• Kansas City Star
• Northland Lifestyle Magazine
• Journal of Missouri Music Educators



Interviews

• Neon Jazz Radio
• Kansas City Star
• ArtsKC Inspiration Video